About Us
Aster Podcasting Network is committed to creating enthralling and inclusive stories that feature diverse casts and provide real representation. We love making content that people can see themselves in and complex and nuanced stories that we deserve to be in.

Interested in knowing more? Find the APN official document here.

Join the Network
Aster Podcasting Network's current team is small but dedicated. We would love to have more scriptwriters, audio engineers, and music writers to join and make these stories come to life!

Any position you are filling is currently unpaid, with opportunities for payment as our Patreon grows.
You must be accepting and willing to work with the diversity we cultivate in our podcasts
Our creators, casts, crew, and characters include people of color, disabled people, LGBTQ+ people, and neurodivergent people. Respect is a must have in the network.

You must be prompt with communication
Silence is great in editing, but not so much in producing. Responding promptly or letting us know when you'll be unreachable is important to us in order to get our episodes out on time.

You must be able to meet deadlines
Deadlines are always negotiable and flexible–once a deadline is created though, we've got to stick to it.

More detailed guidelines and the APN official document can be found by clicking "Guidelines.
Application
Send an email to [email protected] with the following.

Subject
Desired position, First and Last name

Body of the email
+ Name
+ Pronouns
+ Time Zone
+ A way to get back to you

Previous experience
Attach at least one sample of your work as a PDF for scripts and/or as an MP3 or WAV file for audio editing.

Show pitching
If you are pitching a show, please include your pitch in the body of the email you send us.
We look forward to hearing from you!

Head of APN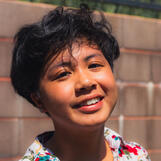 Eli Ramos
they/them
Eli is the Head of APN, creator of Under the Electric Stars, and resident sound editor for every show on the network. They're a lover of genre fiction, cool bugs, and music. When they're not writing, editing, or producing a show on APN, they're usually just getting emotional about everything. Find them on Twitter at @mxeliramos.
Showrunners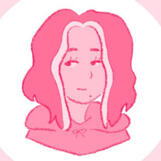 Inigo Sherwani
they/them
Inigo Sherwani is the showrunner and writer of "Crown Jewels." They are a 23 year old cartoonist! A fun fact about them is that they have lent their voice to other APN productions! See if you can find them! Find them on Twitter at @inigio_.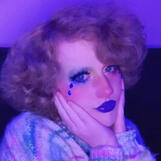 Calliope Monroe
star/she/he/it
Callie Monroe is the showrunner for Spectral Evidence. She is an amateur artist with a love for magic, horror, and all sorts of cool surrealist stuff. Focusing on finding familiar elements in the unnatural and unsettling, she hopes to showcase her favorite aspects of magical fiction in her own work and comfort the disturbed (or, at the least, entertain them). Find her on Twitter at @calliesbox.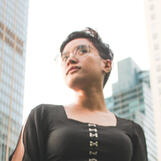 Aidan A.
he/him
Aidan A. is a Filipino theatre student with a passion for all things expressive. He's a writer, composer, voice actor, artist, and a performer. The mundane holds so much potential to be something fantastical, so he has made it his mission to present that beauty to others. As the showrunner for APN's budding show, SkillSet, he aims to capture experiences that tread the line between reflective and relatable (with some fantasy sprinkled in, of course). Find him on Twitter at @lemonaeden.
Social Media

Patreon
Aster Podcasting Network is composed of a small and dedicated team, which you can support at our Patreon and help us make even more shows and episodes! You can get tons of cool content including early access, behind the scenes, merch, and more!