Aster Podcasting Network was created to produce enthralling and inclusive stories that feature diverse casts and provide real representation.
---
Meet our crew!
Head of APN
Eli Ramos (they/them)
Eli is the Head of APN and the creator of Under the Electric Stars. They're an avid fan of all things science-fiction/fantasy. They want to write stories that reflect their experience as a nonbinary Pinoy and reflect other people's experiences that they haven't seen represented before. Find them on twitter at @mxeliramos.
Showrunners
Inigo Sherwani (they/them)
Inigo Sherwani is the showrunner and writer of "Crown Jewels." They are a 23 year old cartoonist! A fun fact about them is that they have lent their voice to other APN productions! See if you can find them! Find them on Twitter at @inigio_.

Calliope Morrissey (star/she/he/it)

Aidan A. (he/him)
Social Media
Kai Ramos (she/they)
Kai is a 23 year old Filipina artist, designer, and sibling of Eli. She manages the socials for Under the Electric Stars and in her spare time streams her art and gaming! Find their work here!
SHOW DIRECTORY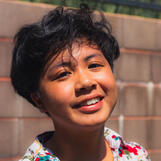 Under the Electric Stars
Under the Electric Stars is a cyberpunk adventure about Metropolis West, one of the last cities standing after a nuclear war. Caine Reyes, the fastest driver in the Metropolis, has been trying to pay back the debt their family fell into years ago. After their bot gets broken, Caine runs into the rebel group Zero Zero and gets caught up in the rising revolution. Find them on their website, Twitter, and Tumblr.
---
Crown Jewels
Rags to riches, riches to rags. Crown Jewels follows Heer, Nazzy, and Bilal Kazan (formerly of the Mirza family, the third richest family in the world) as they navigate life on a literal dime. Everything gets turned upside-down when Altaf, the third richest man in the world and Heer's father, knocks on their door asking for a new life of his own. Find them on their website or on their Twitter (@crownjewelspod).
---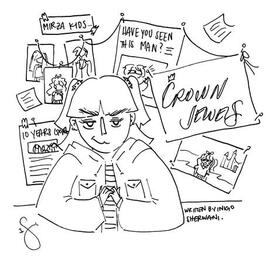 The Sound of Your Name
The jungles of Theride are a deep and mysterious place, with only a few signs of civilization dotting its lush wilderness. In Duke Farid's domain, a chance encounter may very well change the course of history. Listen on Aster Podcasting Presents.
---
Aster Podcasting Presents
A variety of episodes produced by APN's Team (in chronological order.) Click the titles to listen
HA HA HA
Eli Ramos's first entry into APN's canon. A shepherd wanders the icy plains. But there's a beast in those woods.

Scary Stories 2019
Homeward Bound
Written by Eli Ramos. Jamie Lee's parents died two weeks ago and left the house to their kids. Jamie's been aimless for a couple months--well, years, really--and they need a place to stay anyways. Nevermind that their relationship with their parents was dysfunctional at best. But when childhood memories of failure, expectations, and a family doctor start to encroach, Jamie wants to escape...but the house won't let them.

The Moonlight Inn
Written by Brad Colbroock. Sharon's working the night shift at The Moonlight Inn, expecting a boring night watching her cat Somnus chase dust bunnies. But when a guest appears, his clothes soaked in blood, claiming he hit a deer with his car... the night just got a little more interesting.

Epiphany
Written by Jude Lurker. A sky full of stars and a hitchhiker in the desert. A cave in the dark, a light under the earth. A deep subconscious plane, a perfect monolith in a dream. A change is coming.

The Victim
Written by Owen B. After making the biggest mistake of your life (and afterlife), it's time to dispose of the talkative corpse.

Cornelius
In a world where diseases have run rampant, an avid researcher looking for a cure stumbles upon the greatest experimental opportunity: an immortal being.

Missed Call
Ari just wants to move out of his hometown and make something of himself. When he starts getting strange voicemails, he and his best friend Hunter investigate the cause.

incoming transmission
A week after the new year, you receive a transmission from someone. Written and performed by Eli Ramos for the New Year 2021 as a companion piece to "telephone at the end of the universe" and "MAKE SOME NOISE!!" All are pieces that incorporate advice from friends for the question "if you could travel back in time, what advice would you give yourself at the beginning of the year?"
---
UPCOMING SHOWS
Vibrance
Vibrance will be an action podcast about the superhero Vibrance and their journey to learn about their powers. When a starshower mysteriously imbues Avery Tran with emotion-based powers, they must figure out how to control their powers and stop the monsters that have started to surface.

Road Home
Road Home will be a supernatural podcast about the monsters you face and the fear you overcome to find your way home. Luke Torres is a recent college graduate who's returned to Albuquerque, New Mexico to help his family as they move to a new home. But when his sister disappears, he and Porter Farrokhzad, his childhood best friend, must trace her steps to find her and bring her home.
Aster Podcasting Network's current team is small but dedicated. We would love to have more scriptwriters, audio engineers, and music writers to join and make these stories come to life!

Currently, any position you fill is unpaid. As an up and coming network, we are unable to give any payments, but as we grow, we want to be able to provide to you as creators.
---
Guidelines
You must be accepting and willing to work with the diversity we cultivate in our podcasts. Cast, crew, characters, and creators are people of color, LGBTQ+, and neurodivergent. We ask that you be respectful of these identities in order to work with our network.

You must be prompt with communication. Silence is great in editing, but not so much in producing. Responding promptly or letting us know when you'll be unreachable is important to us in order to get our episodes out on time.

You must be able to meet deadlines. Deadlines are always negotiable and flexible–once a deadline is created though, we've got to stick to it.

To apply, please follow the format below.
---
Application
Send an email to [email protected] with the following.
Subject: Desired position, first name, last name
Body of the email
Name:
Pronouns:
Time zone:
Best way to contact you:
Previous experience/references:
Attach at least one sample of your work as a pdf for scripts and as an mp3/wav file for audio editing.

We look forward to hearing from you!
---